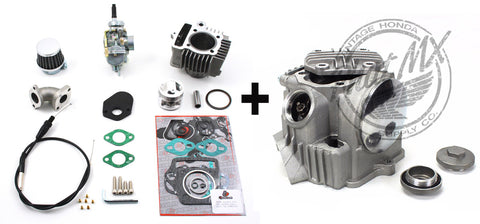 88cc Stage 1 Kit & 70cc Head
Description:
Fits Honda CT70 1969-81, ATC70, SL70, CL70, Z50.
88cc Big Bore kit, 70cc Head and 20mm Carburetor kit:
- Lightweight aluminum cylinder with steel sleeve - Cast in mounts on cylinder for aftermarket skid plates - Over sized cooling fins on cylinder for efficient heat dissipation - High compression 52mm piston with rings, pin, & clips, head gasket kit - 20mm Performance carb assembly. Includes: 20mm carb, intake, heatstop, gaskets, mounting hardware/wrench, air filter and long throttle cable. A main jet kit and Pilot Jet kit  is now included too!
Easily double your power and fun with this quality, yet economical bore kit!!
*** Be careful when removing the spark plug - no warranty for stripped plug hole***
We recommend purchasing a Dual Petcock (for CT70's), and HD Clutch kit (available in this section).
Will NOT work with older throttles that are build into the handle bars.