CRF110 Big Bore Kit 132cc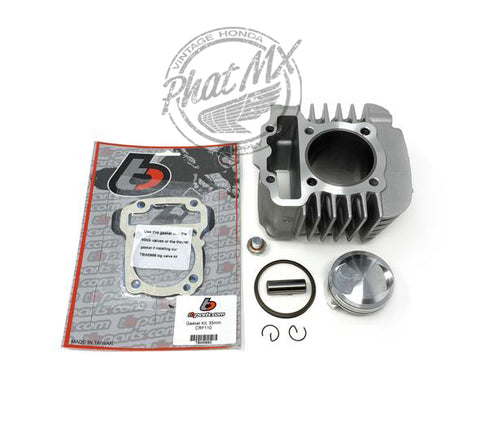 CRF110 Big Bore Kit 132cc
Description:
This TB CRF110 132cc big bore kit is a great performance upgrade for all year models of the popular Honda CRF110.  With the larger bore, this bolt-on upgrade kit will give you more power and higher compression for a very reasonable price.  This is an ideal option if you're looking to add some power or you just need a new cylinder, piston, and rings to rebuild your engine.
Fits all Honda CRF110 year models
Largest bore you can go without boring the cases
More power and fun at an affordable price
Easy bolt-on kit
The cylinder includes a temperature sensor port for the 2019 and up fuel injected models
Runs on pump 91+ octane fuel
Kit includes:
55mm Aluminum Cylinder with Steel Sleeve and temperature sensor port
55mm Lightweight higher compression Piston & Rings
55mm Top End Gasket Set
Bolt/washer to close off the temperature sensor port (for 2018 and older models)
Important Note:  For the 2019 and up fuel injected models, the ECU will require a flash/tune to prevent a lean condition and possible damage to your engine.  CJR Performance (cameronjonesracing.com) provides this service and can also adjust the tune based on your other modifications.