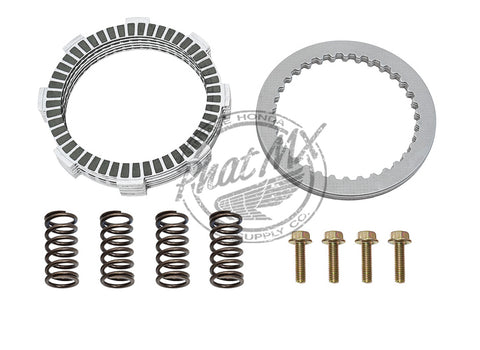 KLX140 HD Clutch Kit
Description:
HD clutch plate kit for the Kawasaki KLX140. This kit was designed to hold more power from the ground up! First, we did away with the OEM "jitter" fiber & steel. This firms up the clutch and gives you more frictional surface to grab! Next, we upgraded the OEM cork and rubber fibers to Kevlar for improved grabbing power. Along with that improvement, we used dimpled steel plates for additional friction. Finally, the springs are 15% heavier than OEM springs. It's enough to hold big power with performance upgrades, but not too stiff where it makes the clutch pull harsh. 
Features:

Deletes the OEM Jitter fiber and steel plate
Kevlar Fibers
Dimpled steel plates
15% over clutch springs
Installation note – This kit replaces the OEM Jitter fiber, spring, and steel plate with a full sized fiber and steel.