(temp sold out) KLX140 Mikuni VM26 26mm Carb Kit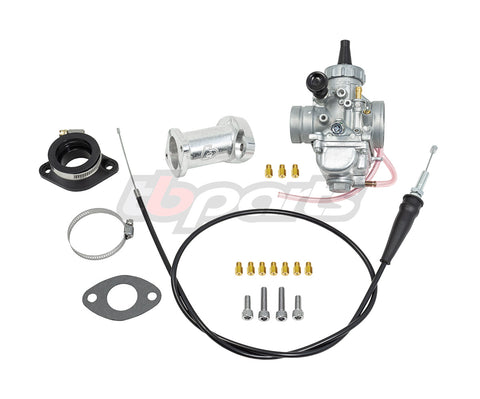 (temp sold out) KLX140 Mikuni VM26 26mm Carb Kit
Description:
This is one of the best, if not the best, carb kit to run on the KLX140 with or without a big bore kit! The Mikuni VM26 has a proven track record of high performance, quality, and easy tuning. The VM26 is +6mm larger than the factory carb so the bike will pick up power everywhere while utilizing the stock air box/filter. We stock replacements for everything in this kit, jets for the carb, and for comparison a replacement OEM carburetor is over $320 alone!
The kit includes:
Genuine Mikuni VM26mm Performance Carb (Not a cheap Chinese copy carb)
Intake Kit port matched to the VM26 and stock cylinder head
Main Jet kit (Stock Main Jet size is a #190 – Extra jets sizes 140, 145, 150, 155 (x 2), 160, 165 (x 2), 170, 175 (x 2), 180, & 185.)
Extended Throttle Cable for use with the stock bars and throttle or tall bars.