(special order) V2 146cc Big Bore Kit & Mikuni VM26 Carb/Kit – YX125cc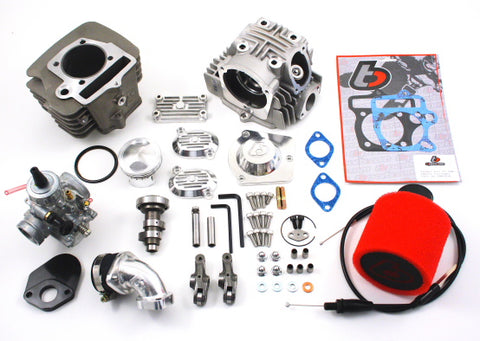 (special order) V2 146cc Big Bore Kit & Mikuni VM26 Carb/Kit – YX125cc & YX140cc
Description:
V2 146cc Big Bore Kit & Mikuni VM26 Carb/Kit – YX125cc & YX140cc
TBparts V2 Race head kit, 146cc Big Bore Kit, and Mikuni VM26 Carb Kit. For use with the 13mm wrist pin 125cc & 140cc engines (57mm Stroke) (YX, GPX, Piranha, Jailing).
Want to nearly double the power of your engine?! Start with the V2 cylinder head's larger stainless steel (21-4N) valves, better porting, roller cam, and forged aluminum roller rocker arms that allow the engine to rev quicker, farther, and make much more power than the stock setup. Add the high compression 146cc bore kit that squares up the bore to 57x57mm and makes for a strong power band. Finish it off with Mikuni's VM26 carb in our carb kit adding up to a professional level of performance at an affordable price for the privateer rider. These are high quality parts and require no machining to the cases or other modifications – bolt on and go! There are no installation instructions, but if you can replace your piston, you can install this kit. If you don't have any experience working on your engine, we highly recommend having a professional technician install this kit or, at a minimum, purchasing the shop manual.
Key Features:
Race Head V2 – Aluminum roller rockers, 28.5mm intake valve, 23.5mm exhaust valve, 26mm intake port, 23mm exhaust port, covers and hardware included (valve, seals, and springs installed).
Race Camshaft
57x78mm (146cc) Aluminum Steel Sleeve Cylinder
57mm (146cc) High Compression Light Weight Piston Kit (91+ octane pump fuel friendly)
13mm Piston Wrist Pin
146cc Top End Gasket Kit
Mikuni VM26 Carb Kit for proven performance, Ported manifold, gaskets, hardware, and throttle cable
No case boring
We stock all the replacement parts for this kit, no ridiculous wait times or prices for these High Performance spares.
Note: This is only for use with 13mm wrist pin YX, GPX, Piranha, Jailing 120cc & 124cc engines. This kit will not work with the common Chinese 125cc 54x54mm engine.  Engine disassembly to measure specs is recommended to ensure this kit will fit.
Installation Note: Do not use the original o-rings between the head and cylinder (not needed) but do use the large o-ring at the bottom of the cylinder between the cylinder and the engine case at the oil return.